...becoming a better driver?
The Institute of Advanced Motorists has an excellent website at www.iam.org.uk where you can pick up all sorts of motoring tips and information for car drivers, motorcyclists and cyclists.
As they say at the IAM "Put quite simply, we offer the opportunity for car drivers to improve their driving standards, helping to make them safer on the roads."
They continue "But that's not all. Like any positive learning experience, it has many benefits. Being safer is just the start as you'll also gain a greater sense of confidence and driving enjoyment. We are committed to helping make you a better driver."
How to be a better driver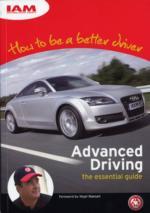 'How to be a better driver' describes in clear and easy to understand terms and pictures what is required to achieve the Advanced Driving Test (including a very useful section entitled 'What the examiner looks for'). It is very much based on the principles of the Police books 'Roadcraft', but explains exactly what is required for the IAM Test.
This book is included in the 'Skill for Life' pack when you join the IAM is also available separately. You can order online at the IAM website, via your local IAM Group, or from good bookshops. Details are as follows:-
How to be a better driver - ISBN 978-0-9562239-0-6,
Published by Institute of Advanced Motorists.
If you would like further information or have any questions you can visit the Institute of Advanced Motorists site or call 0845 126 8600 (9am-5pm Monday to Friday) and speak to one of the IAM Membership Services Team.